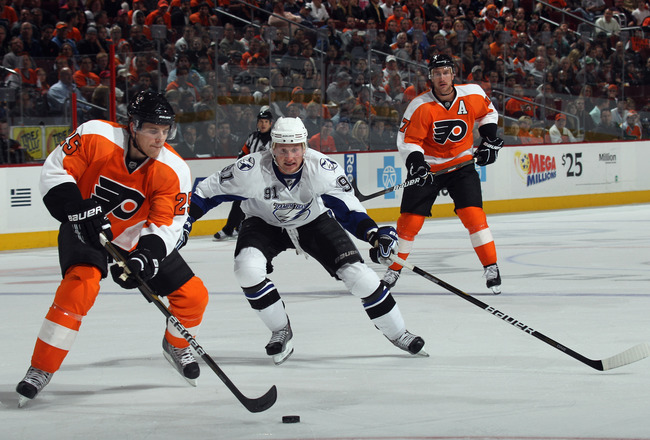 Over the last week, the Flyers have been movers and shakers to the nth degree by jettisoning arguably their two most popular players, and now beat reporter Frank Seravalli is doing his best to give the pot one more powerful stir. Earlier today he wrote an article about how superstar, Steven Stamkos, was having trouble negotiating a new contract with his team, the Tampa Bay Lightning. Wether he wants too much money or years is unknown, but Paul Holmgren has been watching from a far... and his new found riches are burning a hole in his suit pants. Per Seravalli:
"According to sources familiar with the Flyers' thinking, the front office reportedly has been salivating with nearly $10.2 million in salary-cap space for next season."
He goes on to imply the Orange & Black may have a chance at him on the open market.
If Stamkos signs with the Bolts, then the speculation is over. The 21 year old has until July 1st to sign with the team. But if Tampa can't get a deal done and some other franchise throws a big deal at him and he accepts, the Lightning get FOUR 1st round draft picks in return... A price that is steep for many teams (which includes the Toronto Maple Leafs, who are reported as willing to give him $9 per year), but considering his skill set and age make it EXTREMELY worth while.
I know it's speculation... But still.